Oblong Violin Case for 13"–14" Viola
PRODUCT HIGHLIGHTS


High-Density Foam


Black Woven Nylon Exterior, Velvet Interior


2 Bow Holders, 2 Accessory Compartments, Hygrometer


2 Adjustable Straps, Lined Protective Blanket
Navy / 13" Navy / 14" Light Blue / 13" Light Blue / 14"
Oblong Violin Case for 13"–14" Viola
The 13" and 14" Violas ship in the Portland Oblong violin case.
13" ships in a 3/4 violin case
14" shipss in a 4/4 violin case.
The Portland Oblong Violin Case is Kennedy Violins' most popular student case. Made of a high-density foam shell with a weatherproof black nylon exterior, this easy-to-carry case is excellent for everyday transport to and from school, lessons, and long-distance travel. Interior color options include amber and light blue.
Unlike shaped cases, the oblong, rectangular shape of the Portland Oblong Violin Case offers more storage for music in the outside pocket, accessories in the spacious interior compartment, and a shoulder rest in the interior shoulder-rest compartment. The oblong shape also offers convenient storage for the case itself, especially for multiple instruments. Case Features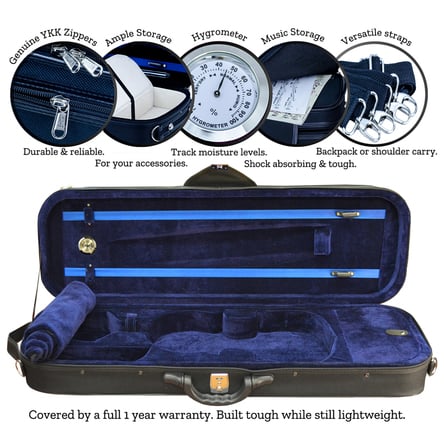 Oblong Violin Case for 13"–14" Viola Features
Features
The Portland Oblong violin case includes the following features:

Two satin-lined rotating bow holders
Strong velcro straps for securing the violin in place
Hygrometer for humidity measurement
Double sets of durable YKK Zippers
Plush velour lining in amber or light blue
Shoulder rest compartment
Spacious accessory compartment for strings, rosin, straps, etc.
Lined protective blanket to cover the violin
Ergonomic shaped handle for comfortable carrying
Two straps for backpack, across-the-chest, or over-the-shoulder carrying
Weatherproof black nylon exterior fabric



Dimensions and Weight
Case Dimensions:

4/4: 31.5" x 5.5" x 11.25";
3/4: 31.25" x 5.5" x 11.25"
1/2: 27" x 5" x 10.25"
1/4: 24.75" x 4.25" x; 9"
1/8: 23.5" x 4.75" x 8.5"

Case Weight:

4/4: 3.9 lb
3/4: 3.8 lb
1/2: 2.1 lb
1/4: 2.8 lb
1/8: 2.6 lb