David Yale Signature Guarneri 1743 "Il Cannone" Model Violin
PRODUCT HIGHLIGHTS


Fine "Il Cannone" Guarneri model (based on Paganini's violin)


This model features a sweet and even tone with a powerful and resonant projection


Perfect for: Advanced violinists and soloists


Features beautiful ebony fittings with heart shaped pegs and boxwood trim
4/4 / Coral Red 4/4 / Carbon Black
Buy with monthly payments
Get a real-time decision. LEARN MORE
Outfit at a glance
Case:

Carbon Composite

Bow:

CodaBow Diamond NX

Rosin:

Pirastro Rosin

Accessories:

Professional grade Thomastik or Pirastro strings installed plus a backup set (Portland or similar), polishing cloth

Recommended Upgrade:

L'Archet Brasil Silver Mounted Violin Bow or CodaBow Diamond GX
David Yale Signature Guarneri 1743 "Il Cannone" Model Violin
The Guarneri 1743 "il Cannone" — The original instrument, built by Bartolomeo Giuseppe Guarneri 'del Gesù' in Cremona Italy in 1743, was famously owned by Nicolo Paganini. This violin is modeled after the original and finished with a beautifully antiqued oil varnish. The sound of these violins are very even and sweet while bringing a powerful and resonant tone.
This violin is accessorized with a bow and case to match the professional quality of the instrument itself. The Guarneri model violins are paired with the L'Archet Brazil Nickel violin bow. Get the whole outfit at a discount when purchasing the instrument and bow together!
This violin is part of the David Yale Signature Series of fine violins. These represent the work of a luthier taking all the extra time they need to get the plate graduations, bass bar placement, and final varnishing just right. The photos show typical instrument quality. Woodgrain will be different on each violin. For more details on the specific instruments currently in stock you may contact the showroom at 1-800-779-0242
LOB: 354mm
Upper Bout: 169mm
Lower Bout: 206mm
Center Bout: 112mm
String Length: 328mm
Listen to our David Yale models on our YouTube channel.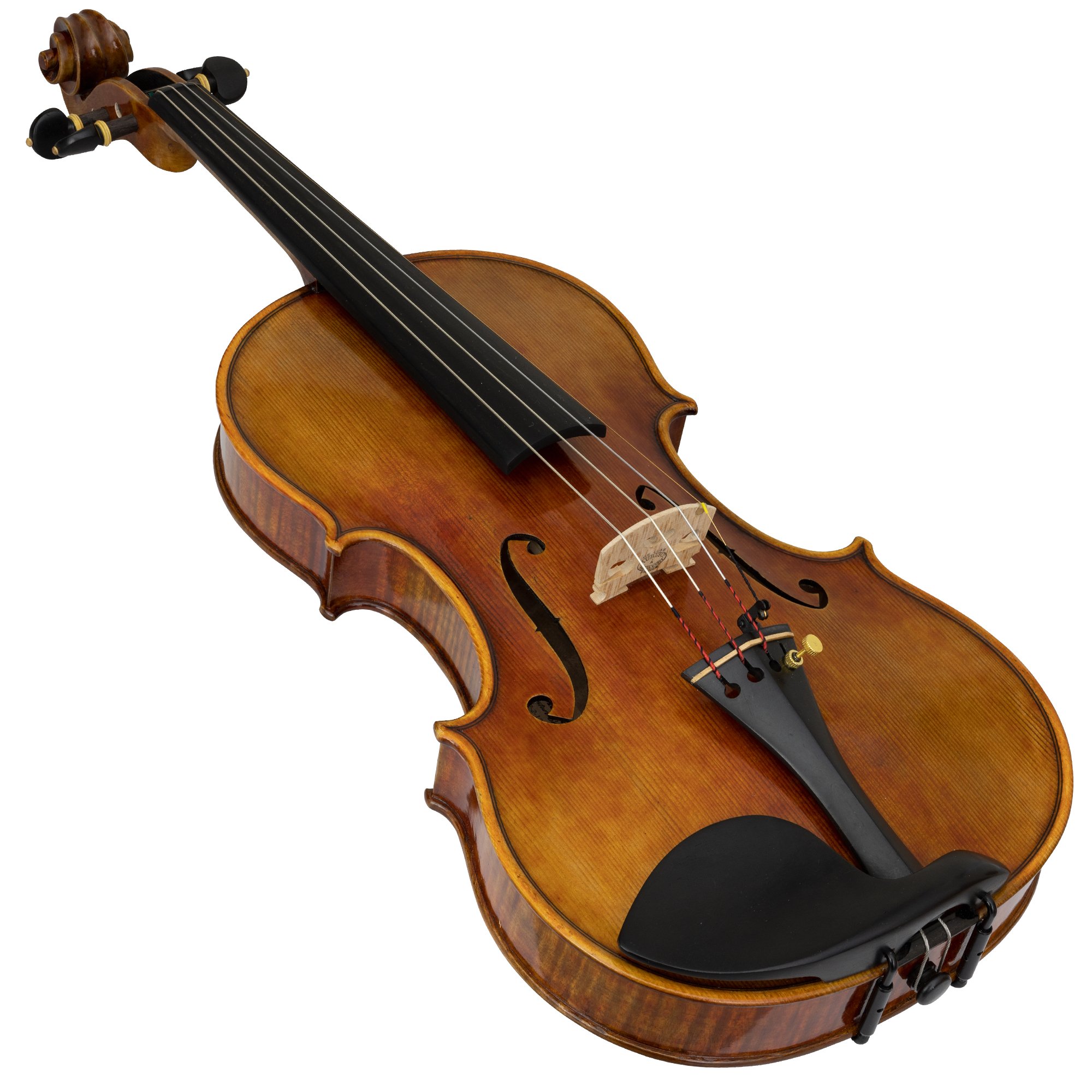 David Yale Signature Guarneri 1743 "Il Cannone" Model Violin Features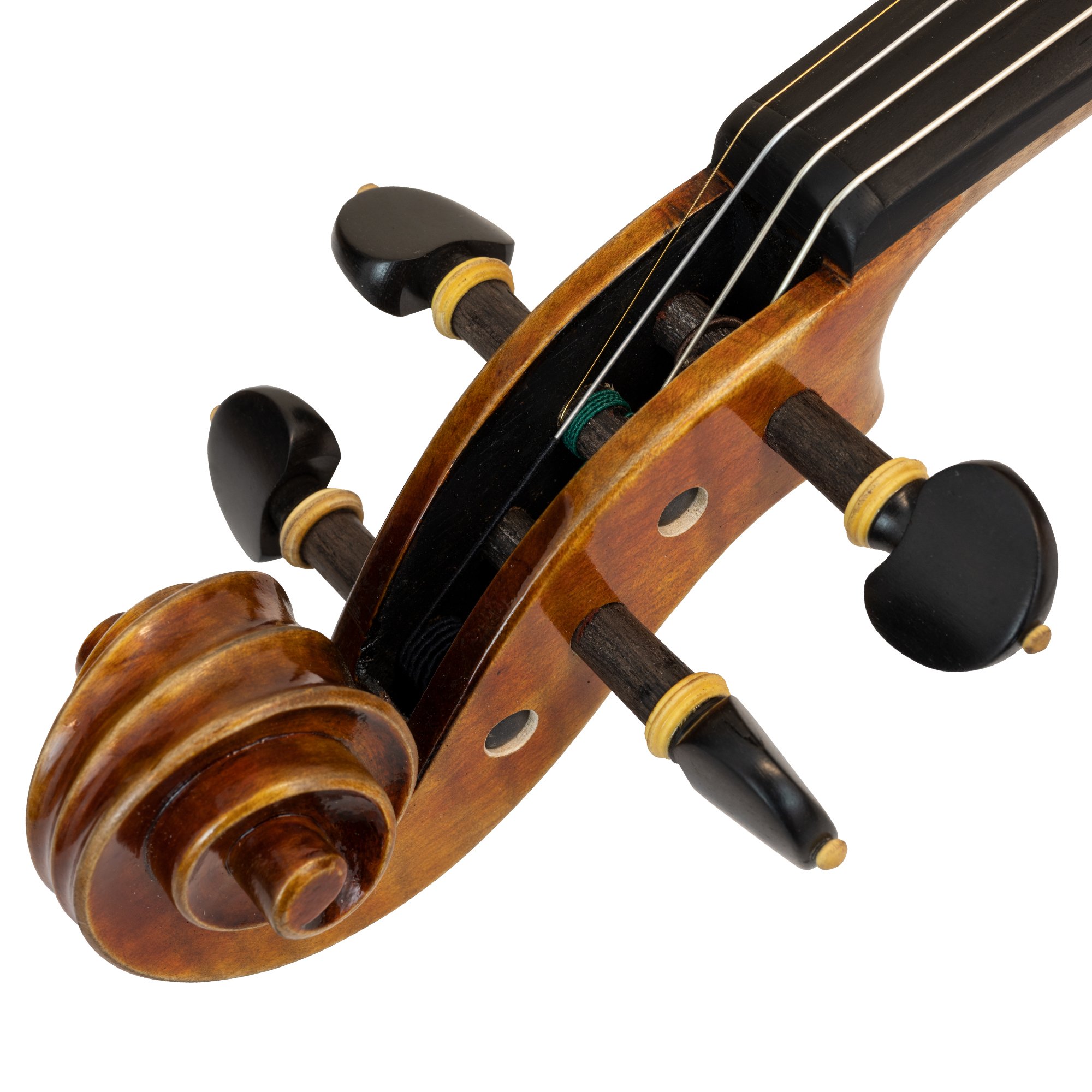 Features of the Guarneri 1743 "il Cannone"
This violin features an even, full-bodied sound and has a particularly nice ringing sound in the upper register.
The tone in the lower register is rich and has a lot of depth
A beautiful brescian brown finish that really shows the beautiful grain in the top
This violin was modeled after the violin Paganini himself played
This violin would serve well for a first violinist or soloist looking for a violin that projects but retains a rich, warm tone
Hand carved French Aubert Deluxe or Milo Stamm bridge with parchment on E string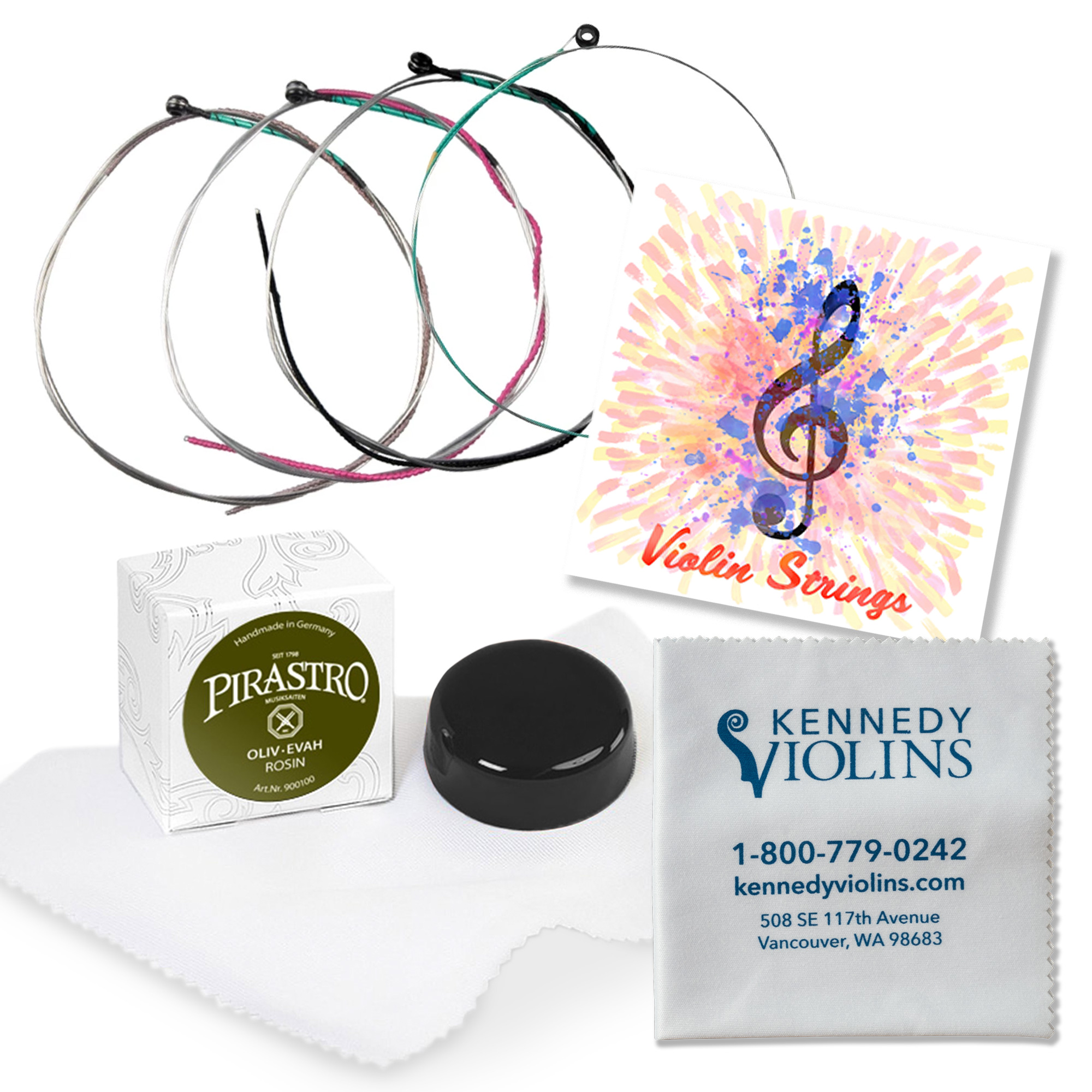 Included Accessories
Professional grade Thomastik or Pirastro strings installed
Backup set of Portland Strings or similar
Pirastro Rosin (style may vary)
Polishing cloth
Carbon Composite Case
Tough carbon composite exterior
Padded exterior music storage
Numeric coded lock
Adjustable straps
Comfortable handle
Hygrometer
Four bow holders
Protective instrument blanket
Zippered accessories pouch
Shoulder rest holder
Adjustable neck support
Strap to safely secure violin
CodaBow Diamond NX Features
Strong, lightweight carbon fiber shaft with blended Kevlar core
Extremely durable and resistant to warping
Brown tinted color with graphite diamond weave
Fully-mounted CodaBow Xebony™frog
Silver-plated winding
Nickel-silver fittings
Natural carbon fiber weave bow slide
Fiber-reinforced tip plate
Excellent balance and responsiveness
Moroccan leather grip
Composite wedges and plugs
Limited 10-year warranty