David Yale Cello Outfit
PRODUCT HIGHLIGHTS
Complete coverage by our Lifetime Warranty
Kennedy Violins' 45-day Money-back Guarantee
Set up by our team of professional luthiers in Vancouver, WA
Excellent customer service to meet your needs
CUSTOMIZE YOUR ORDER: Add item to cart then save your accessory selections to your shopping cart before checkout.
4/4
Outfit Accessories:
Case: Portland Soft Cello Bag
Bow: Giuliani Brazilwood Cello Bow
Rosin: Pirastro Professional
Accessories: Rosin, string cloth
Recommended Upgrade: Thomastik Versum Solo
Kennedy Violins' David Yale Cellos from our exclusive Signature Series represent the finest hand-craftsmanship we offer. Made with only the most premium tone woods, these one-of-a-kind masterpieces are intricately carved to accentuate even the most nuanced performance. When we searched for a cello suitable for conservatory students and orchestra professionals, we immediately recognized the David Yale as the "player's instrument." We invite you to experience the sophistication, beauty, and sound in your own hands.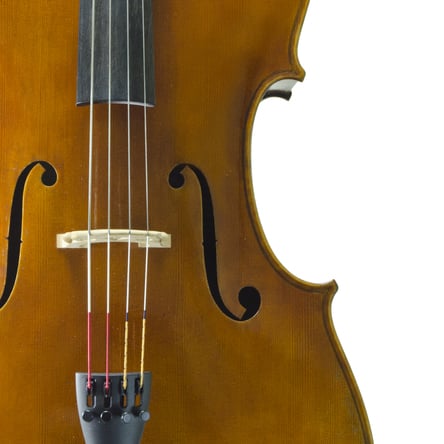 Product Features
The David Yale Cello Outfit includes the following:

Four durable, easy-to-use fine tuners
Strong, stainless-steel endpin with rubber tip
High-grade, aged maple and spruce tonewoods
Rich, vibrant oil-based finish Inlaid purfling
Custom-fit, professional, hand-carved bridge
Beautifully carved ebony fittings including polished fingerboard, tailpiece, and pegs
Included Accessories
Strings: D'Addario Prelude or upgrade to professional quality strings for free
Bow: Brazilwood with Real Horsehair
Case: Choice of Soft, Foam, or Hard
Rosin: Pirastro professional quality rosin
Case Features
Black, water-resistant nylon
Reinforced seams for increased durability
Soft black tricot interior
Generous 20mm of foam padding
Double zipper closure
Bow sleeve
Accessory pocket
Multiple Handles for easy transport
Two padded, adjustable backpack straps
Large music pocket
Full one-year warranty!
Bow Features
Strong round bow shaft of genuine Brazilwood
Genuine Mongolian horse hair
Half-mounted 100% ebony frog for great balance and durability
Mother of pearl inlay on frog
Silver winding
Abalone bow slide
Precisely weighed for excellent balance and responsiveness
Black leather grip
Covered by Kennedy Violins' Limited Lifetime Warranty