D'Addario XT Phosphor Bronze Custom Light 11-52 Acoustic Guitar Strings
PRODUCT HIGHLIGHTS
Corrosion-resistant XT coating extends string life
Phosphor bronze wrapped
Slightly more volume and projection than Extra Light, while still being easy to play
CUSTOMIZE YOUR ORDER: Add item to cart then save your accessory selections to your shopping cart before checkout.
Default Title
This 11-52 Custom Light gauge set has slightly more volume and projection than Extra Light, while still being easy to play.
Since D'Addario introduced Phosphor Bronze acoustic guitar strings in 1974, they've been synonymous with warm, well-balanced tone. XT Phosphor Bronze offers that and more, boasting enhanced break resistance, better pitch stability, and longer life than our standard phosphor bronze strings. The XT coating delivers advanced corrosion resistance, while still retaining the warm tone and natural feel of the uncoated string. Beneath the coating, these XT acoustic strings are constructed with a NY Steel core, phosphor bronze wrap wire, and Fusion Twist technology, affording tonal versatility with added resilience, excellent for a wide range of acoustic styles.
Advanced corrosion resistance coating extends string life, while preserving the natural tone and feel of uncoated strings.
Phosphor Bronze wrap wire provides tried-and-true D'Addario acoustic tone, with beautiful balance and warmth suitable for all musical genres.
With a NY Steel core and Fusion Twist technology, XT Phosphor Bronze offers greater break strength and unmatched tuning stability—staying in tune 131% better than other acoustic strings.
XT acoustic guitar strings have a code on the recyclable, resealable VCI bag, which you can register to earn Players Circle points.
These strings are made in the USA—drawn to our exacting specifications at our New York production facility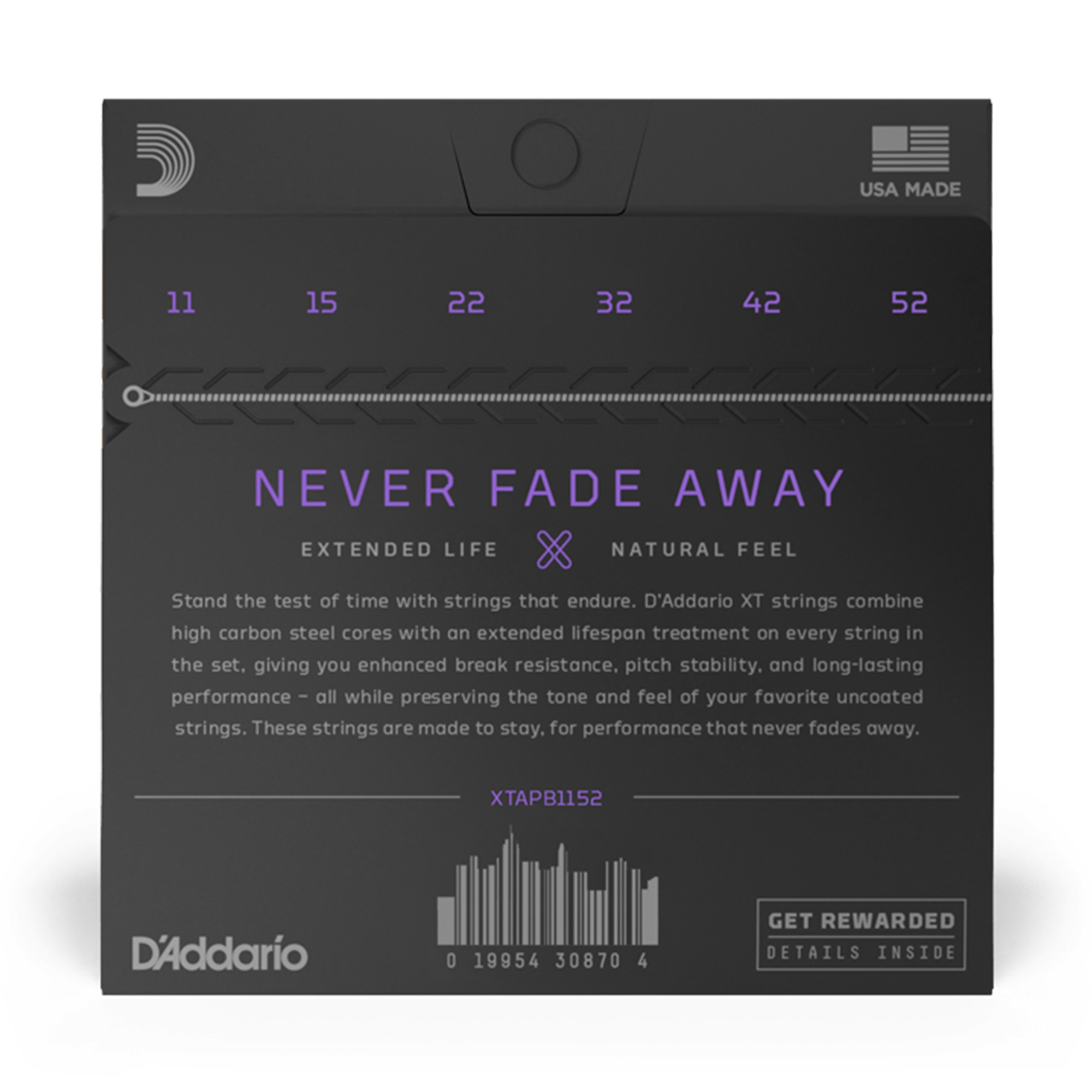 Enhanced break resistance, pitch stability and long-lasting performance.