CLEARANCE Nikola Zubak Viola Outfit
PRODUCT HIGHLIGHTS
Complete outfit with case, Giuliani Premier Viola Bow, Pirastro Rosin, and high-quality steel-core Helicore strings. High-quality ebony fittings with boxwood trim.
All violas backed by a lifetime warranty and 45-day money-back guarantee.
Final assembly and setup performed by Kennedy's professional luthiers in Washington State, not overseas.
Clearance instruments have small cosmetic imperfections or discontinued finishes that do not effect sound quality or playability. Call 1-800-779-0242 with questions or to see photos.
CUSTOMIZE YOUR ORDER: Add item to cart then save your accessory selections to your shopping cart before checkout.
16" 15 1/2" 15"
Outfit Accessories:
Case: Choose from available cases during purchase.
Bow: Giuliani Premier Viola Bow
Rosin: Pirastro Rosin
Accessories: Rosin, cleaning cloth, luggage tag, instrument care poster, extra strings
Recommended Upgrade: Portland Advanced Case
Introducing the Nikola Zubak viola, a fantastic viola for the advancing player! This viola is constructed with carefully selected aged spruce on the top and beautifully flamed maple on the back and sides. It comes with ebony fittings with boxwood trim on the pegs and tailpiece. The Zubak Viola is available in sizes 15", 15-1/2", 16", and 16-1/2".
Each handcrafted Zubak viola starts as fine tonewood aged a minimum of 10 years and is carefully crafted into a fine viola for the advancing player. The attention to detail is evident in the perfect inlay of the purfling and precise graduations and arching. The resulting sound is a beautiful, voicelike sound that can project and carry across the hall. The C string is powerful but warm, and the upper register carries a lot of volume while maintaining a sweet tone.
Great attention to detail is also paid to the final setup. A certified luthier from the Kennedy Violins staff hand-carves and notches the bridge to accentuate the acoustics of the instrument. Bridge feet are carefully shaped to fully contact and fit the curvature of the viola face, promoting a clear tone and strong projection.
This instrument is set up with high-quality fittings, chrome brackets, and a single fine-tuner. The fingerboard is beautifully carved from 100% high-grade ebony. An authentic French Aubert bridge supports professional-grade D'Addario Helicore D, G, and C strings with a Larsen A string that offers a warmer tone for treble playing.
Viola Features:
Shipping within two business days. In-shop luthiers offer same-day shipping on select orders.
Kennedy Violins' 45-day money-back guarantee
Full coverage by our Lifetime Warranty
Free professional setup by Kennedy Violins' experienced luthier staff

Solid-carved, high-grade maple back and spruce top
Hand-rubbed oil finish and beautiful shade of varnish
100% ebony chinrest, pegs, fingerboard, and tailpiece
Inlaid ebony purfling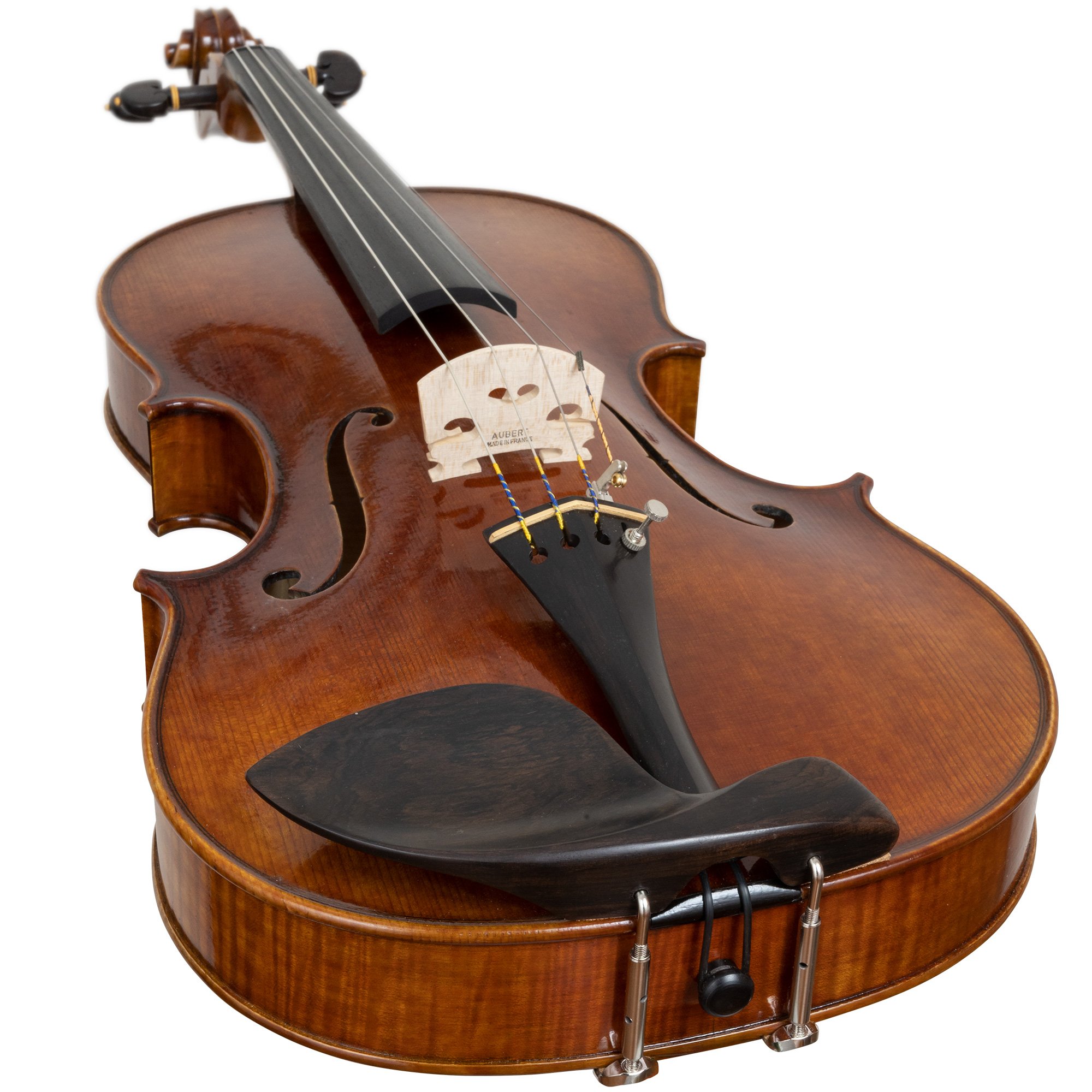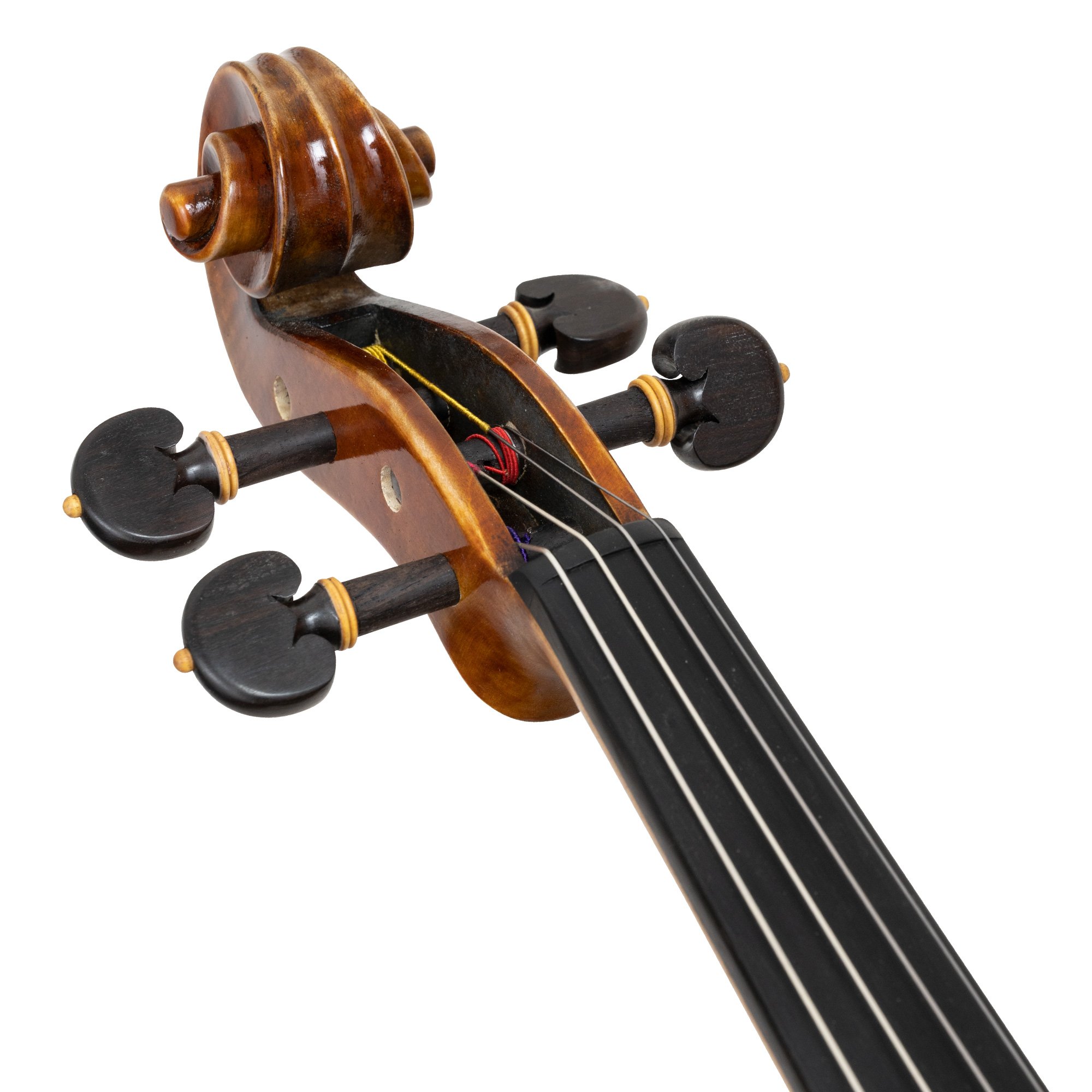 Professional Setup
All our violins are set up in the USA by our staff of in-house professional luthiers. This includes:

Arching the custom bridge
Fitting bridge feet to the curvature of the instrument
Carving the nut to professional curvature
Fitting pegs
Polishing the finish Installing strings and tuning the violin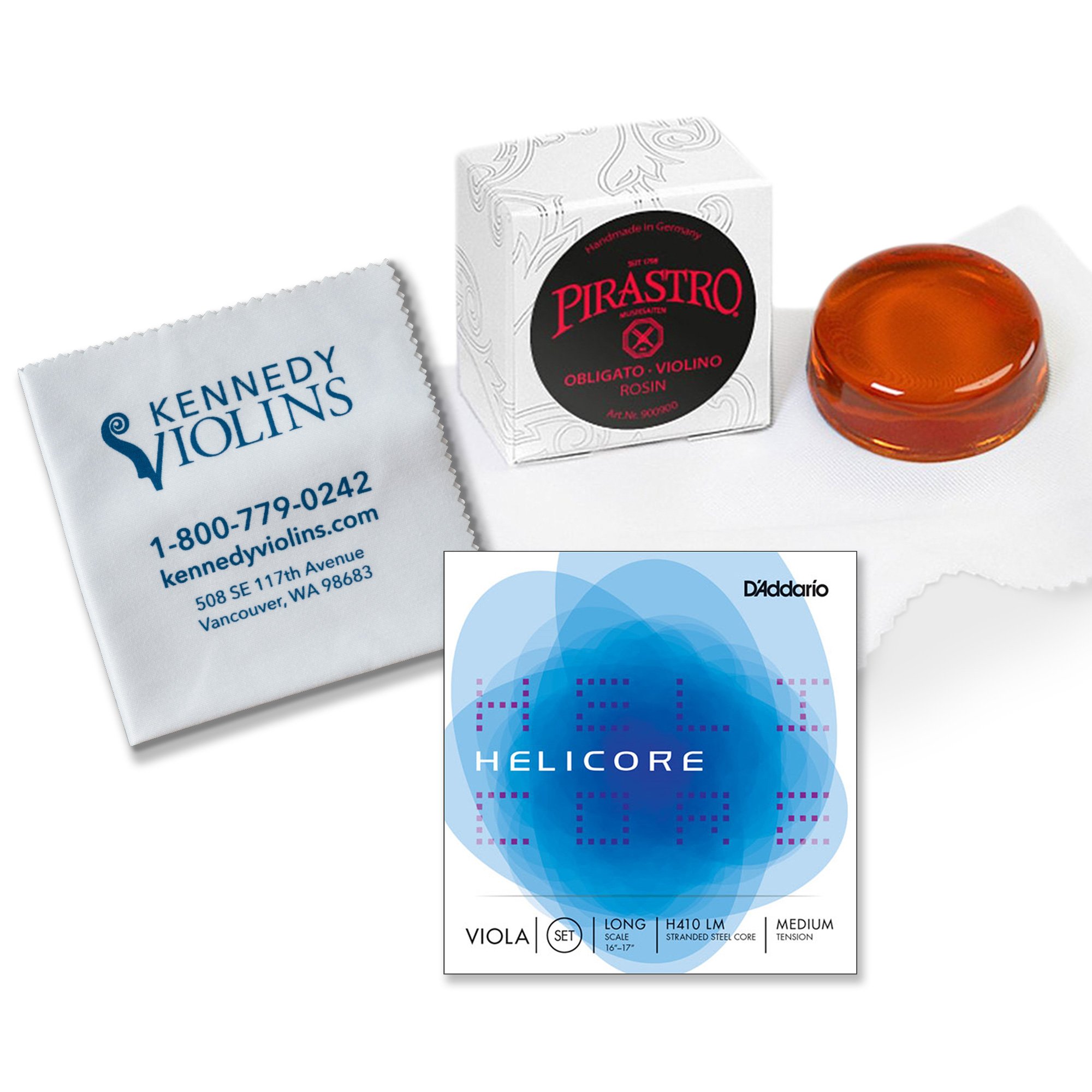 Included Accessories
Giuliani Premier Viola Bow with genuine horsehair and ebony frog
Choice of Pirastro Rosin

A sturdy, full-suspension case with black canvas exterior and velveteen lining that is both amazingly lightweight and extremely protective

Extra strings (not included with 14" and lower)
Polishing cloth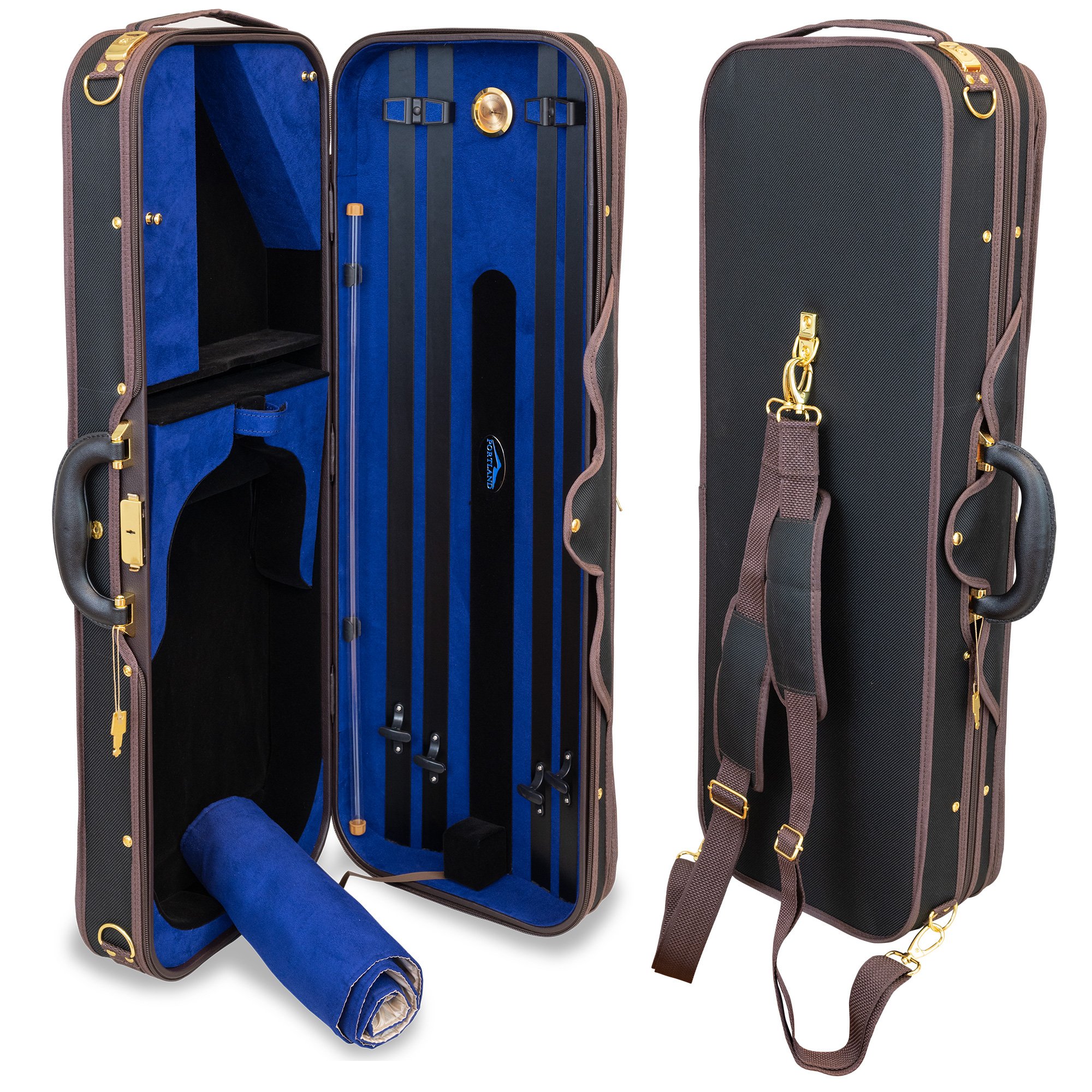 Case Features
Ships with the Portland Elite case. Color options may vary from case pictured.
Four bow holders
Compartments for shoulder rest, rosin, extra strings, mutes, and other accessories
Large exterior pocket with double YKK zippers for sheet music and folders
Protective weather flap with snaps to cover zippers and case latch
Protective blanket with velour on top, smooth polyester beneath, and double-stitched binding
Smooth, hinged handle for comfortable carrying
Metal "subway" bumpers for standing case on bottom or side
Lightweight design for comfortable transportation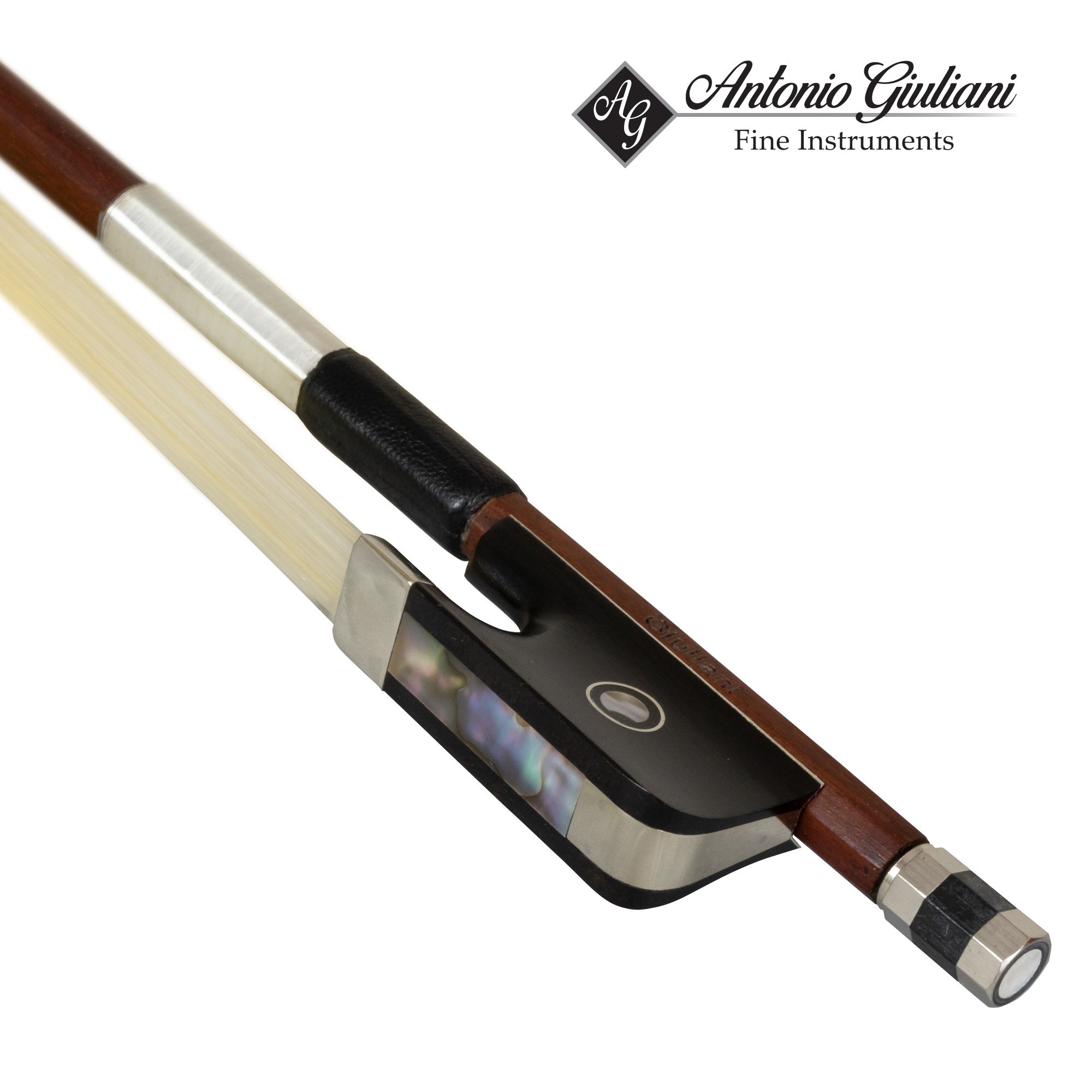 Premiwer Bow Features
Strong bow shaft of genuine brazilwood
Genuine Mongolian horsehair
Fully mounted, 100% ebony frog for great balance and durability
Mother-of-pearl inlay on frog
Silver winding
Premium flamed abalone bow slide
Black leather grip
Precisely weighed for excellent balance and responsiveness
Covered by Kennedy Violins' Warranty