Carbon Fiber Bow Option VN3
CUSTOMIZE YOUR ORDER: Add item to cart then save your accessory selections to your shopping cart before checkout.
4/4 3/4 1/2 1/4 1/8 1/10 1/16
This bow is available as an upgrade item. You can get this item at a special price when purchasing a violin outfit.
The Giuliani Carbon Fiber Bow is a beautiful, highly effective bow. Constructed using the latest technology in precision bow making, this bow is available at a competitive price. Carbon fiber, as compared to fiberglass or other plastics, is a more sophisticated compound designed to have a high strength-to-weight ratio. Precisely measured to create a perfectly round, balanced, and lightweight bow shaft, the carbon fiber bow often exceeds the performance of Brazilwood bows and completely resists warping. It is a great choice for both young and experienced players looking for a strong, durable, light, and extremely responsive bow. As we source our bows directly from the maker, we are able to improve quality control and offer such high quality at a price well below what would be expected for bows of this caliber.
The balance, response, and bounce of Kennedy Violins' carbon fiber bows are excellent, responding to every nuance of the player. Unlike some carbon fiber bows that are hollow in the center, the Giuliani bows are constructed of solid carbon fiber throughout. With such a stable, strong stick, performers can play powerfully with heavier strokes to create more volume. The stick is shaped to exact specifications that ensure accuracy and clarity for advanced spiccato techniques.
Mongolian horsehair from high elevations is very durable, strong, and long-lasting. Its smooth texture creates a similarly smooth, clear, and full tone when drawn over the string.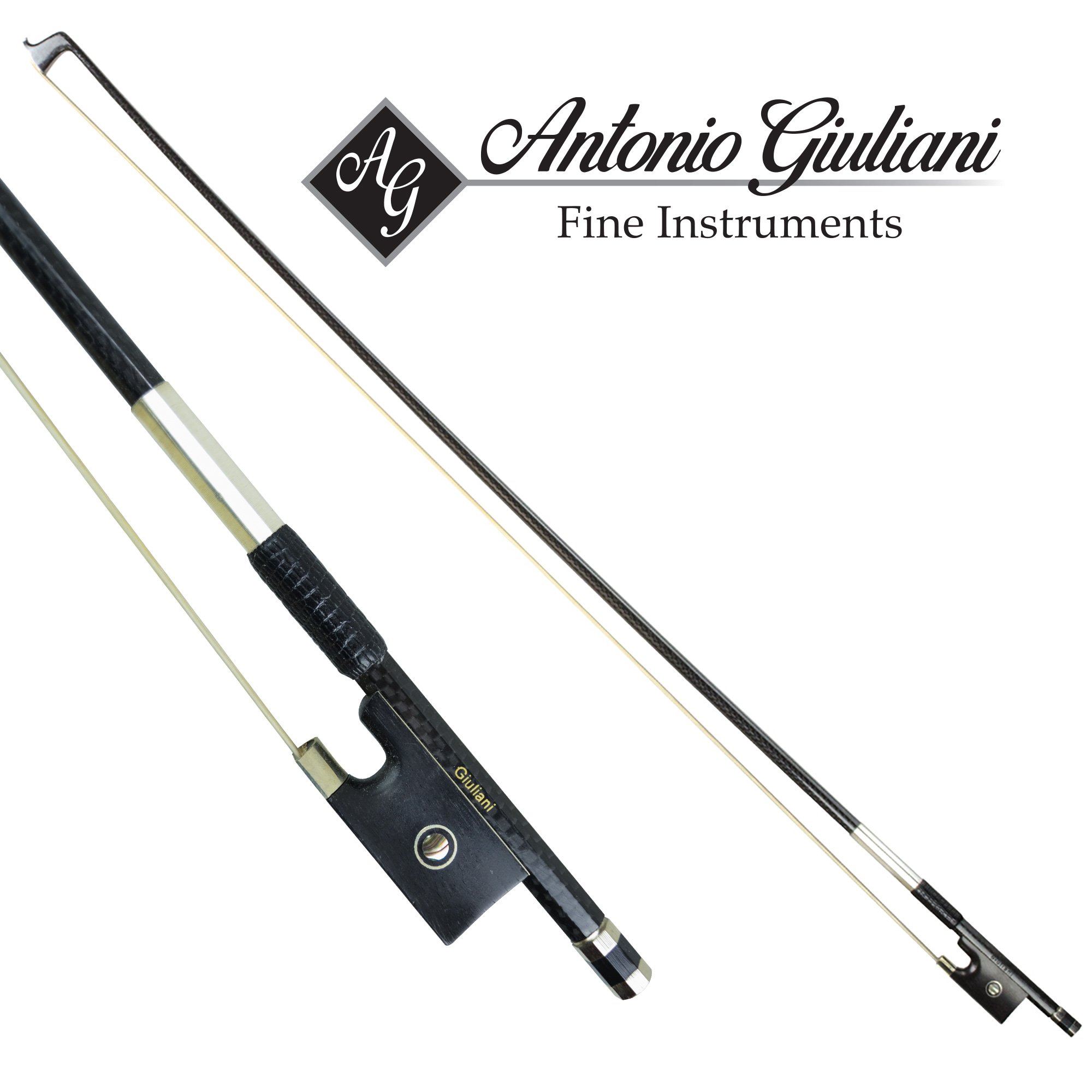 Bow Features
Strong, lightweight, solid carbon fiber shaft
Extremely durable and resistant to warping
Sleek black color with reflective shimmer
Solid, 100% Indian ebony frog with Parisian eye
Fully-mounted frog for great balance and durability
Solid silver winding (not silver-plated copper)
Solid silver accents for improved balance and durability
Beautiful, premium abalone bow slide and eye
Frog and screw accented with premium abalone
Precisely weighed for excellent balance and responsiveness
Faux lizard grip