CLEARANCE Bunnel Pupil Student Violin Outfit
PRODUCT HIGHLIGHTS
Tone: Warm, mellow, sweet
Aesthetics: Rich chocolatey brown and hints of red varnish, with a smooth matte finish
Perfect for: The beginning violinist
Clearance instruments feature the sound quality and playability of our regular products, but have small cosmetic imperfections or a discontinued finish. Call 1-800-779-0242 with questions.
CUSTOMIZE YOUR ORDER: Add item to cart then save your accessory selections to your shopping cart before checkout.
4/4 3/4 1/2 1/4 1/8 1/10 1/16
Prime Member? Get fast, free delivery. "Buy With Prime" orders are shipped from Amazon warehouse locations. Prime orders cannot be customized.
Outfit Accessories:
Case: Portland Oblong
Bow: Giuliani Brazilwood Bow
Rosin: Giuliani Rosin
Accessories: Prelude strings installed, plus extra set Portland Strings or similar for sizes 4/4 –1/4, Carbon-fiber-style shoulder rest (contour foam for sizes under 1/4), Antonio Giuliani Rosin, Polishing Cloth Instrument care poster.
Recommended Upgrade: Thomastik Alphayue Strings
As the perfect beginner violin, the Bunnel Pupil Violin Outfit includes everything you need to begin your musical journey. We understand that the quality of your first instrument greatly affects your initial playing and learning experience, especially for younger students. To help you or your child have the most positive and enjoyable experience, we ensure comfortable playability and precise string height for new players. As a result, we guarantee that the sound quality and ease of playing of the Bunnel Pupil Violin will be far superior to any other beginner violin at this incredible value.
Violin Features:
Four professional quality built-in fine tuners on a composite tailpiece
100% natural ebony fittings, including polished fingerboard and pegs
Solid carved (not pressed) maple back and sides
Solid spruce top
Inlaid purfling
Handmade construction
Satin oil finish (not a shiny, thick, and "tinny"-sounding lacquer finish)
Smoothing the accurately planed fingerboard
Listen to demonstration videos for Bunnel Violins.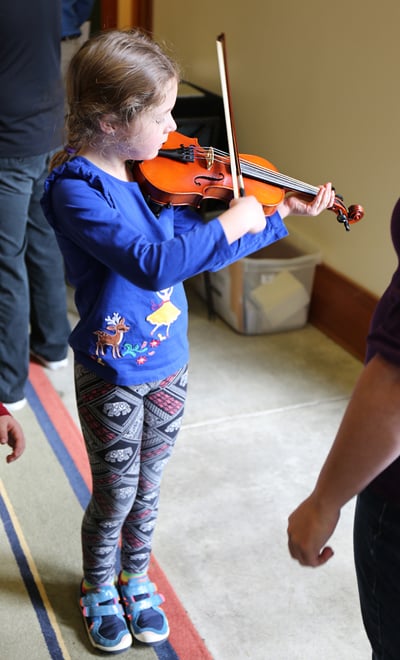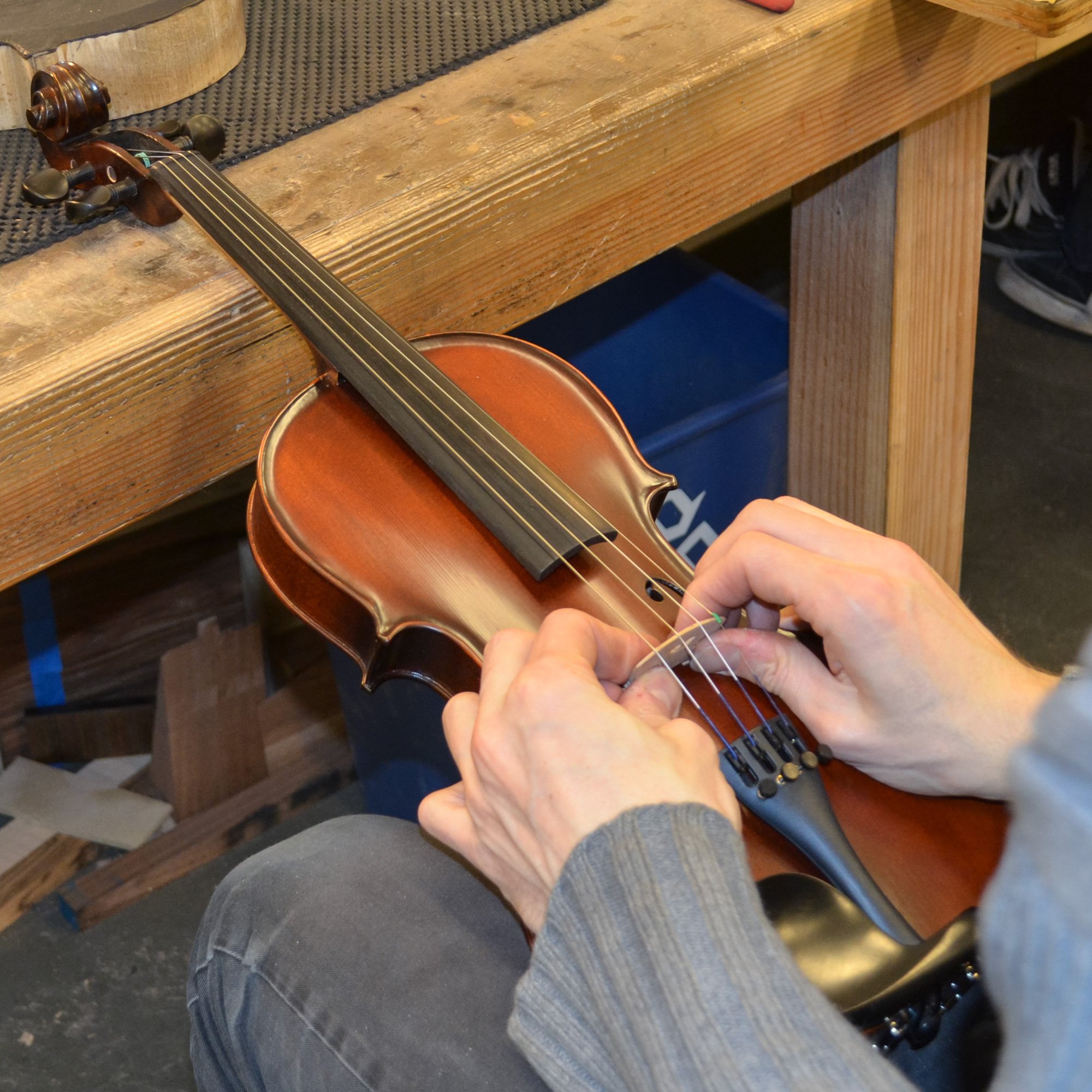 Free Professional Setup
Arching the custom bridge
Fitting bridge feet to the curvature of the violin
Carving the nut to professional curvature
Fitting pegs
Polishing the finish
Installing strings

Your Violin arrives ready to tune and play!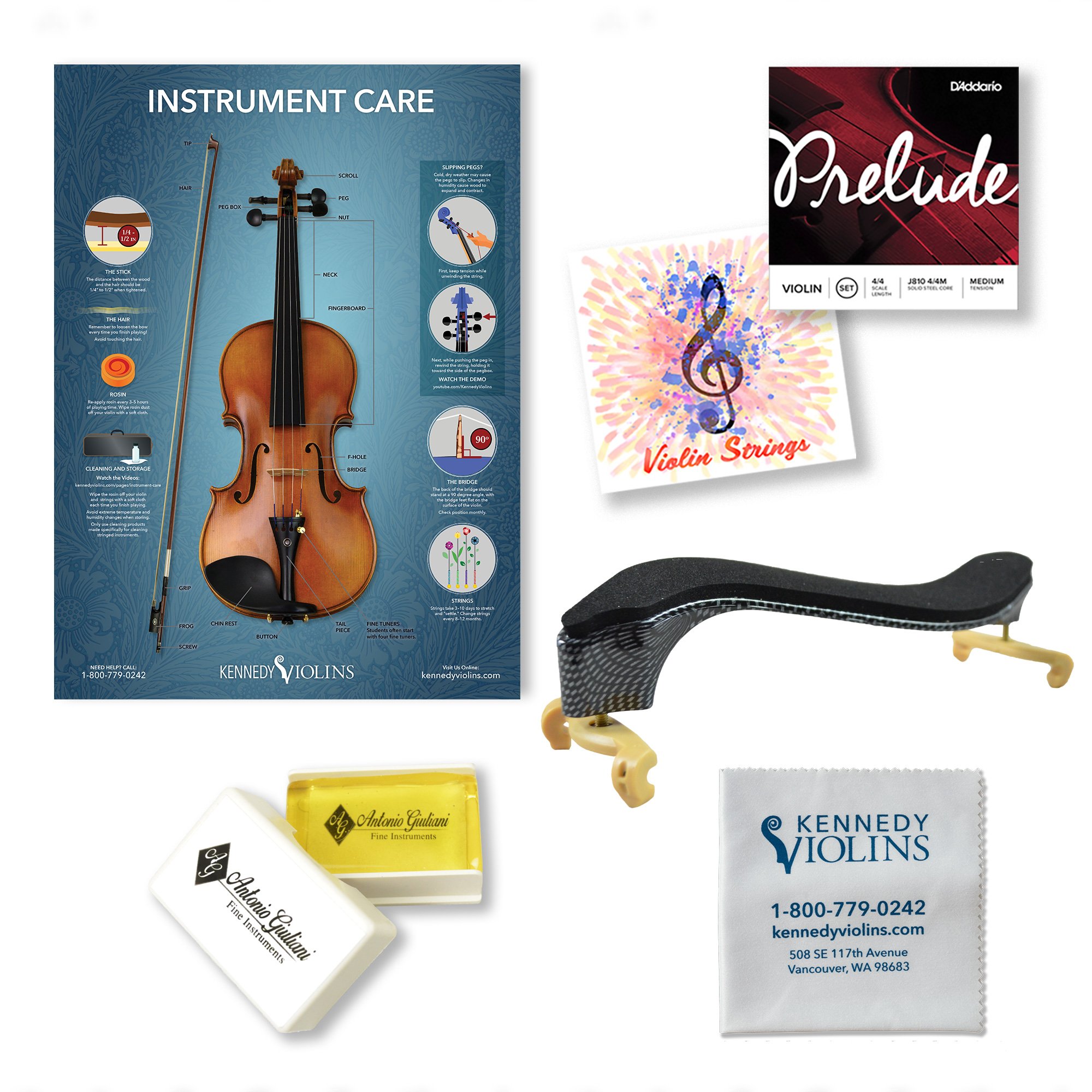 Included Accessories
One-year warranty on all accessories
Carbon-fiber-style shoulder rest (contour foam for sizes under 1/4)
Soft cleaning cloth
Pre-installed steel-core D'Addario Prelude Strings
Extra set Portland Strings sizes 1/4 and up. (Backup strings size 1/8 and below are generic.)
Antonio Giuliani Rosin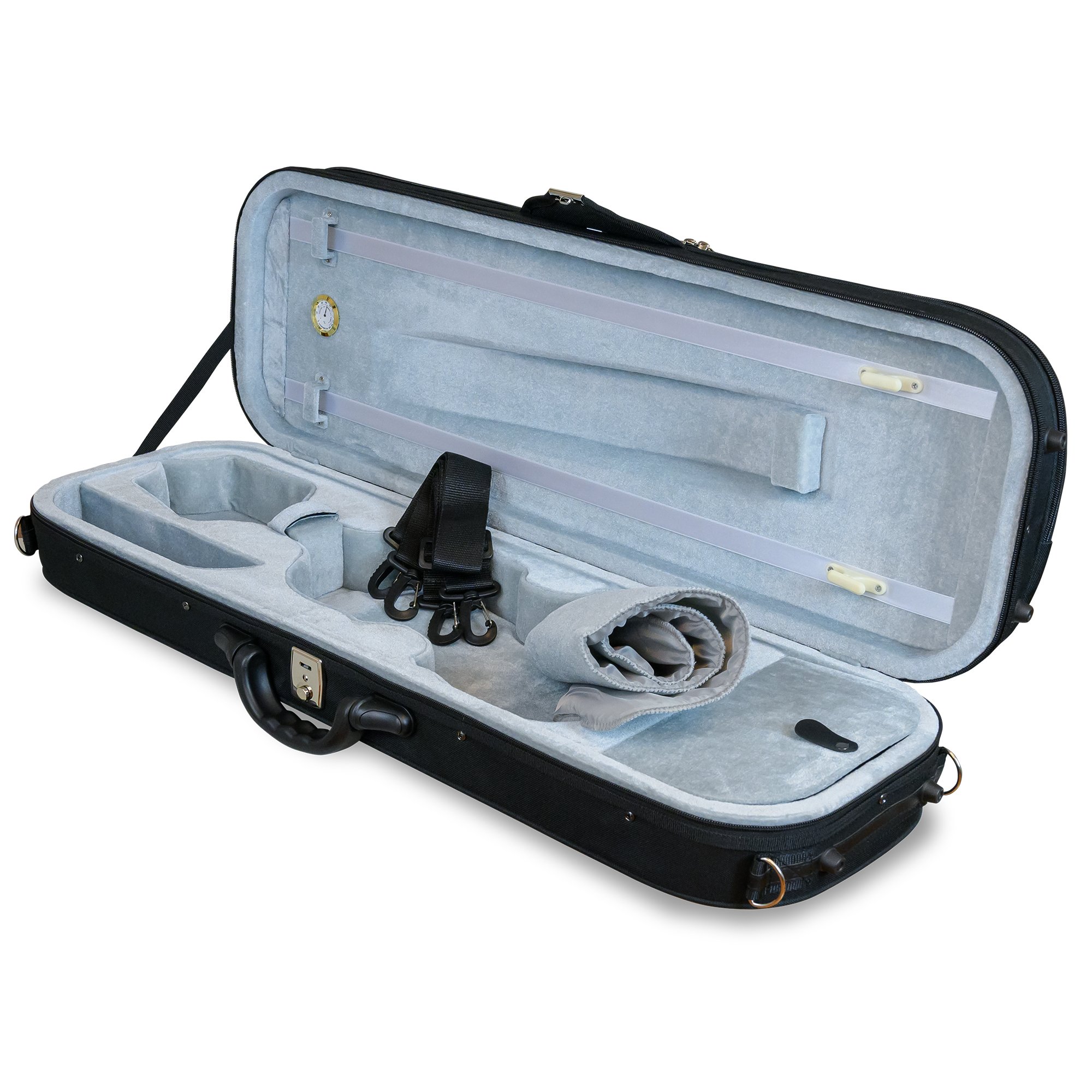 Case Features
Two satin-lined rotating bow holders
Strong velcro straps for securing the violin in place
Hygrometer for humidity measurement
Double sets of durable YKK Zippers
Plush velour lining in amber or light blue
Shoulder rest compartment
Spacious accessory compartment for strings, rosin, straps, etc.
Lined protective blanket to cover the violin
Ergonomic shaped handle for comfortable carrying 2 straps for backpack, across-the-chest, or over-the-shoulder carrying
Weatherproof black nylon exterior fabric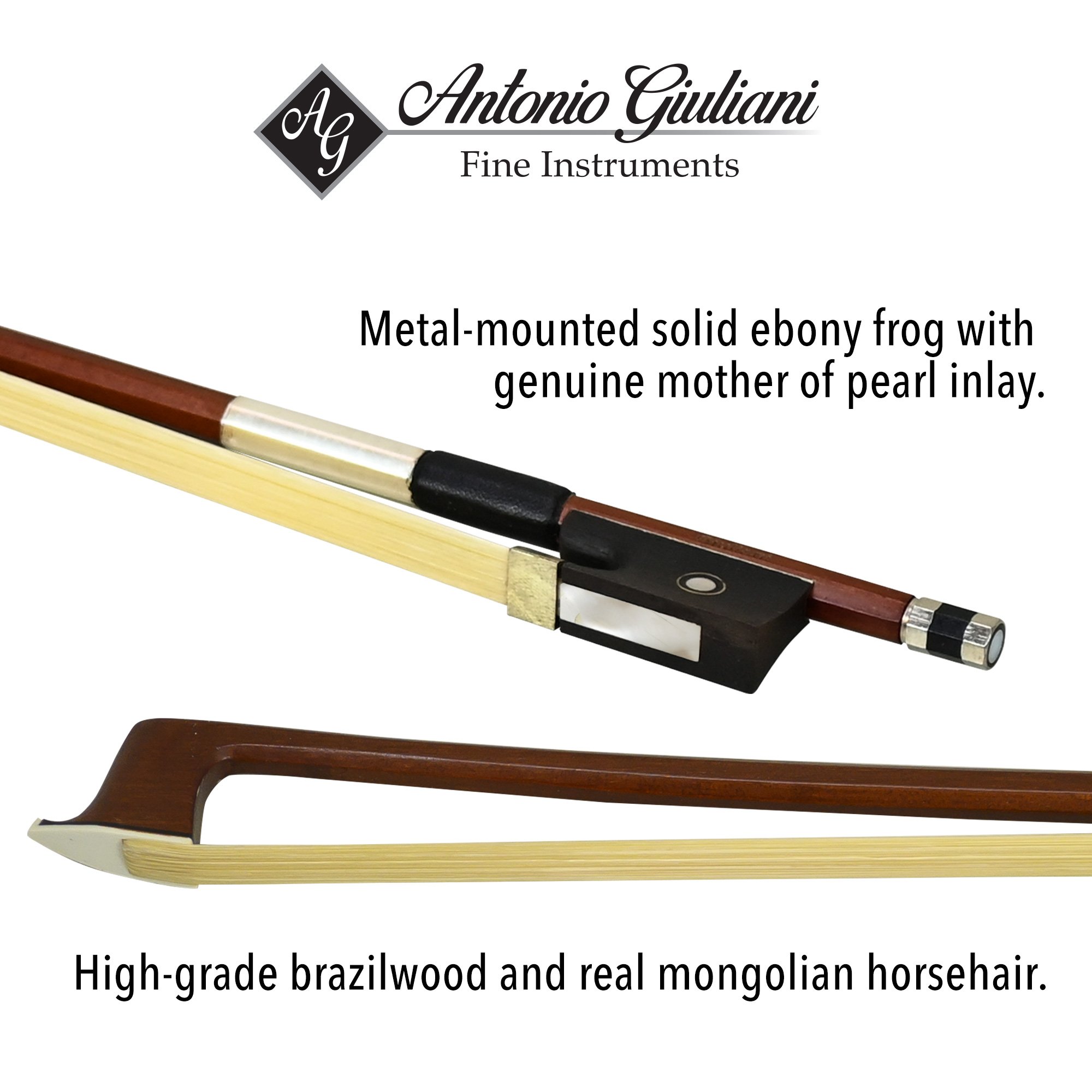 Giuliani Bow Features
Strong round bow shaft of genuine Brazilwood
Genuine Mongolian horse hair
Half-mounted 100% ebony frog for great balance and durability
Mother of pearl inlay on frog
Silver winding Abalone bow slide
Precisely weighed for excellent balance and responsiveness
Black leather grip
Covered by Kennedy Violins' Limited Lifetime Warranty