Customizer Test of Ricard Bunnel Viola Outfit
PRODUCT HIGHLIGHTS
Complete outfit with case, Brazilwood bow, rosin, and steel-core D'Addario Prelude strings
All violas backed by a lifetime warranty and 45-day money-back guarantee
Final assembly and setup performed by Kennedy's professional luthiers in Washington State, not overseas
CUSTOMIZE YOUR ORDER: Add item to cart then save your accessory selections to your shopping cart before checkout.
16 1/2" 16" 15 1/2" 15" 14" 13"
Outfit Accessories:
Case: Portland Oblong Adjustable viola case or similar
Bow: Giuliani Brazilwood viola bow
Rosin: Giuliani natural rosin
Accessories: Rosin, extra strings (not included with 14" and lower), cleaning cloth, luggage tag, and instrument care poster
Recommended Upgrade: Dominant Strings
The Bunnel Viola Outfit is perfect for the beginning violist. This viola has a warm tone and is available in 13", 14", 15", 15.5", 16", and 16.5" sizes. Bunnel Violas are made with select maple and spruce tonewoods. Detailed carving contributes to an instrument that is projective with superior tone quality.
The fine quality of the finished instrument comes from attention to detail. Many beginner violas are coated with a shiny, thick lacquer finish that dampens sound and affects the tone quality of the instrument. The Ricard Bunnel Viola, like our other instruments, are finished with a traditional, hand-rubbed oil and spirit varnish that is smoothly polished. The oil finish complements the maple and spruce body of the instrument, allowing the sound to resonate clearly and with greater projection.
Whether you are a young student or an adult, the knowledgeable members of our customer service team can help fit you with the viola size you need. As violas are larger and longer than violins, it can sometimes be difficult to determine the right size to match your arm length. Whether you visit us in the store or speak with us over the phone, we can help you find your match!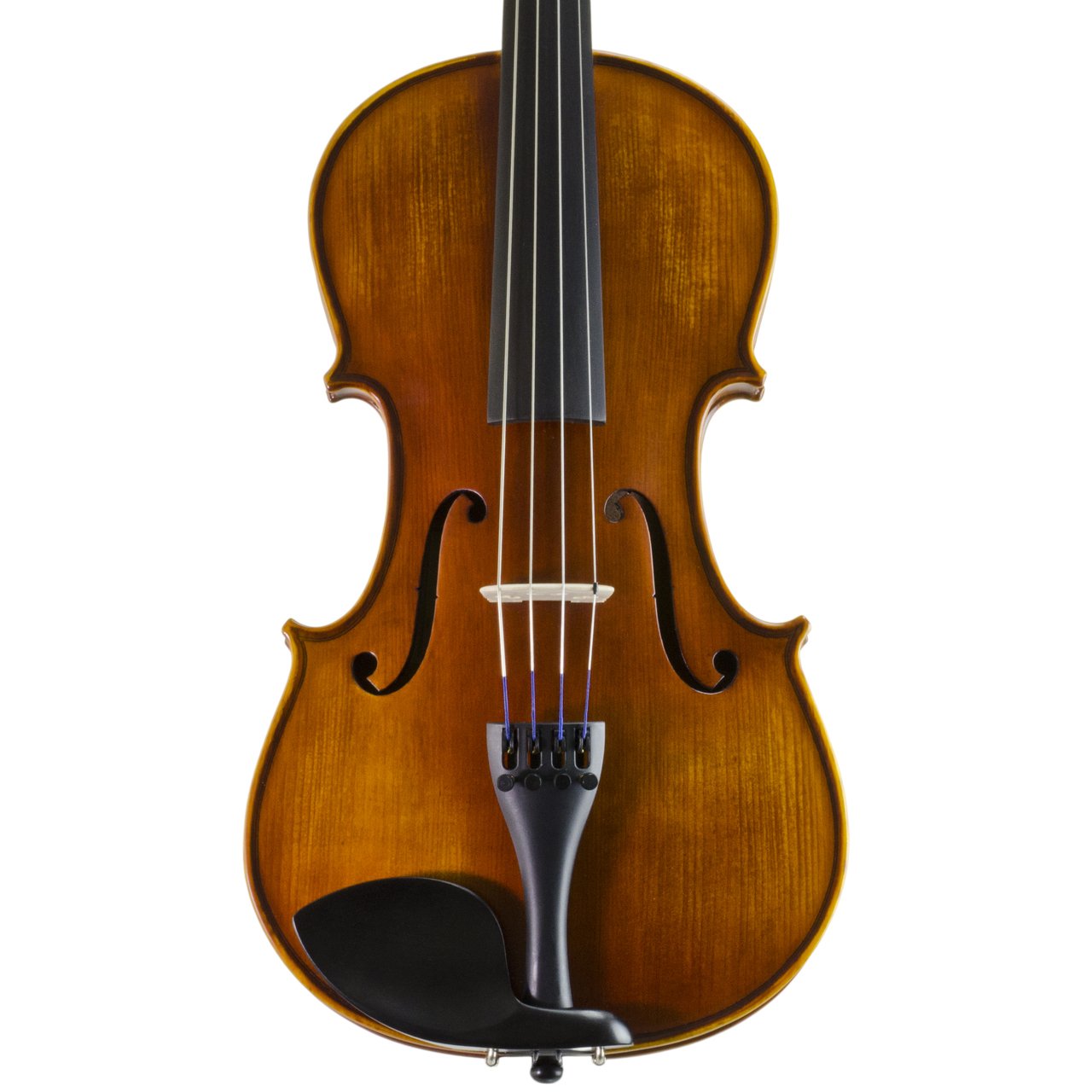 Product Features
Shipping within two business days. In-shop luthiers offer same-day shipping on select orders.
Kennedy Violins' 45-day money-back guarantee
Full coverage by our Lifetime Warranty
Availability in 13", 14", 15", 15.5", 16", and 16.5" sizes
Free professional setup by Kennedy Violins' experienced luthier staff
Solid-carved, high-grade maple back and spruce top
Hand-rubbed oil finish and beautiful shade of varnish
100% ebony chinrest, pegs, fingerboard, and tailpiece
Inlaid ebony purfling
Four fine tuners for ease of tuning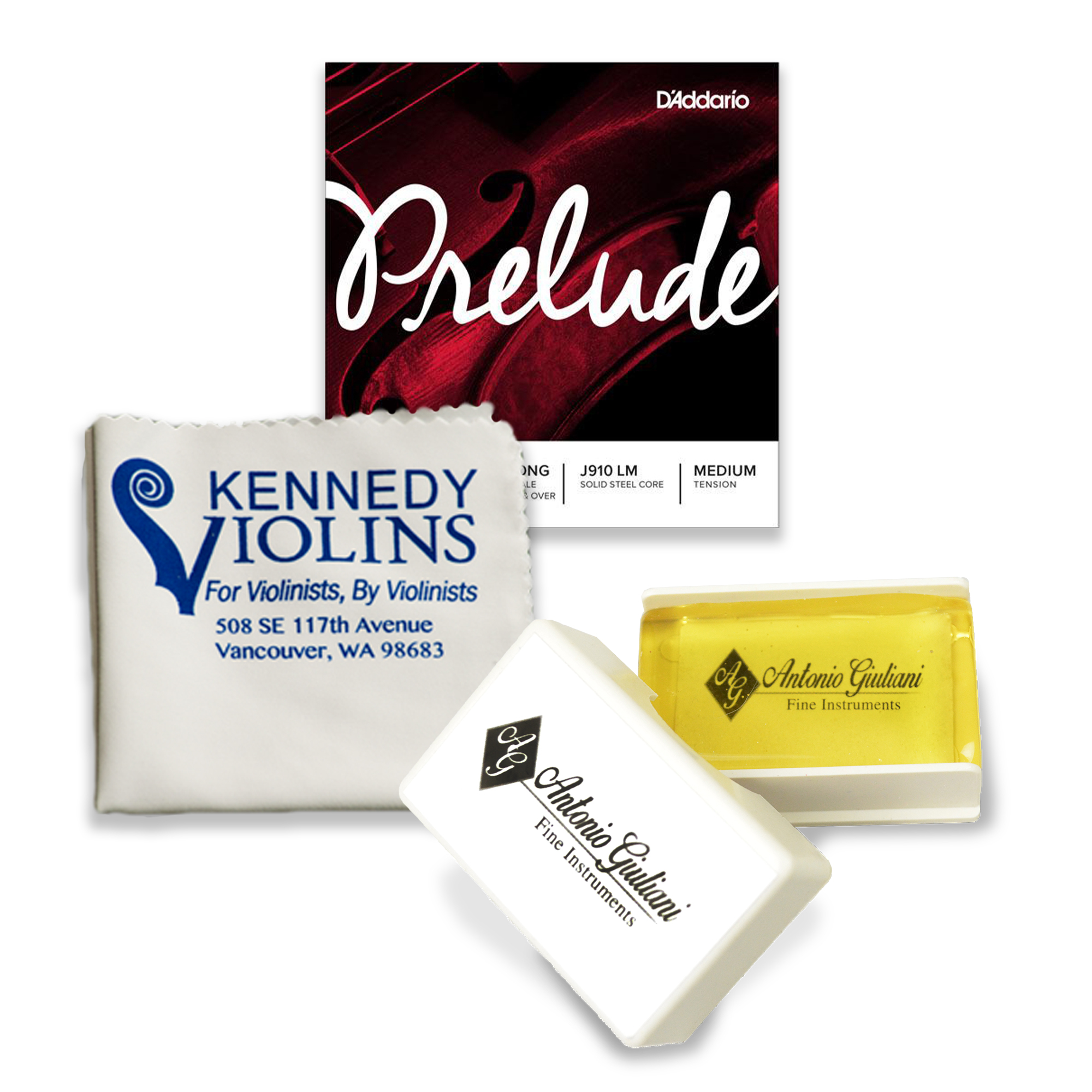 Included Accessories
A real brazilwood bow with genuine horsehair and ebony frog

Giuliani natural rosin

A sturdy, full-suspension case with black exterior and velveteen lining that is both amazingly lightweight and extremely protective.

Luggage tag
Extra strings (not included with 14" and lower)
Cleaning cloth
Case Features
Ships with Portland Oblong Adjustable Viola Case or similar. 13" and 14" violas may ship in violin cases. Color may vary from case pictured.
Black nylon exterior with zippered music pocket
Full suspension
Lightweight oblong case
Shoulder rest storage
Four bow holders
Velcro viola neck strap
Satin-lined blanket
Large accessory compartment
Two shoulder straps
Bow Features
Strong bow shaft of genuine Brazilwood
Genuine Mongolian horsehair
Half-mounted, 100% ebony frog for great balance and durability
Mother of pearl inlay on frog
Silver winding
Abalone bow slide
Black leather grip
Precisely weighed for excellent balance and responsiveness
Covered by Kennedy Violins' Limited Lifetime Warranty